Business Directory
Moombaboats
Address:
Building No. 245,Princes Hwy, South Nowra, NSW, Australia, South Nowra, 2541
Description:
Moobaboats sells online boats in Australia and worldwide. Our products are Moomba Mondo,craz, Mojo, ski, Wakeboard ,Wake and Wakesurf boats. Our company price are low on every boats. Contact us for best deal.
Contact No.:
0244224477
Category:
General
,
Business services
,
Retail and shopping
,
Transport and freight
,
Other
Tags:
Boats for Sale Australia, Wakesurf boat, Ski boat, Wake boat, Boats Online, Boats for Sale
http://www.moombaboats.com.au/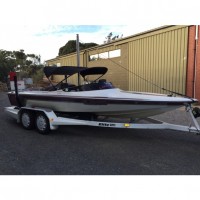 ---
Send Message to listing owner
ARTMSG is a local & international business directory. All the business directory listings are free. Businesses worldwide add their listings to ARTMSG. Add your business to ARTMSG today. Remember all business directory listings are free, absolutely, 100% free!